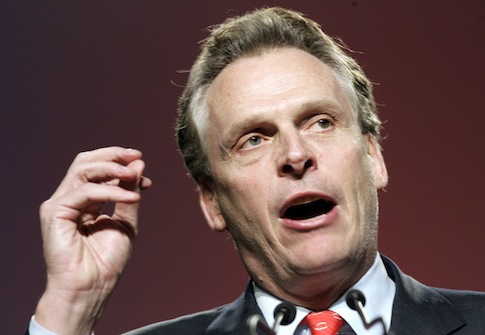 During his first stint as Virginia governor, Terry McAuliffe (D.) named the founders of one of the country's leading anti-vaccine organizations to two coveted administration positions after they contributed more than $50,000 to his political campaign.
McAuliffe in 2014 appointed Claire Dwoskin and Al Dwoskin, a since-divorced Democratic power couple, to serve on the George Mason University Board of Visitors and the Governor's Advisory Council on Revenue Estimates, respectively. Claire Dwoskin a year earlier had formed the Children's Medical Safety Research Institute, an anti-vaccine organization that has pushed the baseless theory that some vaccines are linked to autism in children. The organization was funded by the Dwoskin family charity.
A number of Democratic politicians who now accuse Republicans of opposing vaccines have themselves cozied up to prominent anti-vaccine activists. Gov. Gavin Newsom (D., Calif.) reportedly expressed concerns about government-mandated vaccines during a 2019 meeting with Robert Kennedy Jr., one of the most influential vaccine opponents in the country.
Vaccines have become a focal point of the Virginia governor's race, with McAuliffe accusing his challenger, Republican Glenn Youngkin, of opposing the coronavirus vaccine. Youngkin has publicly urged Virginians to get the vaccine. Virginia's first gubernatorial debate is Thursday.
The Dwoskins have donated heavily to McAuliffe and other Democrats over the years. A former finance vice-chair of the Democratic National Committee, Claire Dwoskin gave $16,000 to McAuliffe's campaign in 2013, according to campaign finance records. Al Dwoskin, a real estate developer, has contributed more than $180,000 to McAuliffe's campaigns and a pro-McAuliffe political action committee. He has given $17,500 to McAuliffe's campaign so far this year.
The Dwoskins' views on vaccines were publicly known before McAuliffe tapped Claire for the George Mason post. Days before McAuliffe announced the appointment, the Children's Medical Safety Research Institute tweeted that "Children who receive vaccines containing aluminum may be at a higher risk for developing #autism." In 2010, Dwoskin called vaccines a "holocaust of poison" that harmed children.
Through the institute, the Dwoskins funded numerous anti-vaccine projects, including the propaganda film The Greater Good. The group has also touted the work of Joseph Mercola, one of the most prominent vaccine skeptics in the country.
McAuliffe cited Claire Dwoskin's affiliation with the institute in a statement announcing her appointment to the George Mason post.
Dwoskin touted the McAuliffe appointment on her personal blog, saying the position would allow her to provide George Mason with "guidance" on academic research. She wrote that her duties on the Board of Visitors would include setting tuition rates, approving the school's budget, and appointing a president for the university.
The Dwoskins have supported numerous other progressive organizations that have accused Republicans of opposing vaccines. The Dwoskin family charity gave $64,000 each to Citizens for Responsibility and Ethics in Washington and Media Matters for America in 2019, according to tax filings. Al Dwoskin is currently on the board of Citizens for Responsibility and Ethics in Washington, alongside former senator Claire McCaskill (D., Mo.) and failed 2016 presidential candidate Evan McMullin.
Al Dwoskin distanced himself from the Children's Medical Safety Research Institute after he and Claire began divorce proceedings in 2018. He told the Daily Beast he regretted involvement in the anti-vax movement.
Neither the McAuliffe campaign nor the Children's Medical Safety Research Institute responded to requests for comment.
The post McAuliffe Appointed Prominent Anti-Vaxxers To State Boards appeared first on Washington Free Beacon.